Long stays and studient room
This morn residency, HQE type, with 6 floors, is composed of design studios and appartments from 18 to 60 m². It's situed in the Genoble's hyper center, just 5 minutes walking from the train station and tourist attractions. Appartments and studios from the "Le Patricia" are equiped with free wi-fi, flat screen television with TNT channels. The kitchenette has a fridge, a wicrowave and iron plates. The living-room has one or some beds, tables, chairs and design sofa. Each appartment has a bathroom with a modern shower. Each are decorated with a different theme and have all you need for a pleasant stay. Near : lot of commerces, restaurants, tramway, bus.
Furnished studios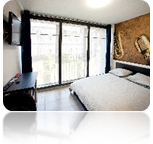 From 620 €/month
Studio from 18,5 to 20 m2 . Well equiped with kitchenette, tv, bathroom, desk, functional storages.
Funished T2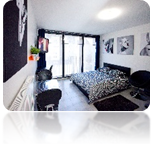 From 780€/month
T2 from 36 to 45 m2. A nice and modern living room with a big sofa bed , lunch table, separated bedroom with a big bed and a desk, kitchenette, bathroom shower, lot of storages.
Furnished T3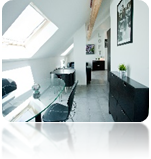 From 895€/month
T3 from 63m2 type Loft with an atypical living room with view on the Bastille, Tv, lunch table, separated bedrooms with big beds and desk, kitchenette, bathroom shower, lot of storages.
Welcome service, recording, leaving and arrival from 7hAM to 10h45AM and 4hPM to 9hPM, 7 days a week. Bike local, washing machine and dryer are available at the reception. Private parking available 10€/night (recommanded booking). Free Internet with wi-fi in all the building. More options on demand.